"Tapping the Healer Within"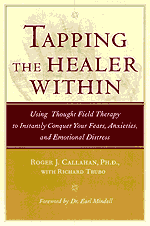 Using Thought Field Therapy® to Instantly Conquer Your Fears, Anxieties, and Emotional Distress.
By Roger J. Callahan, PhD,
with Richard Trubo, Forward by Dr. Earl Mindell.
The first book on "TFT" by its founder Dr. Roger Callahan. Thought Field Therapy (TFT) has already changed the way thousands of people have overcome emotional problems. Now the founder of TFT shows readers how to harness its healing power on their own, to overcome phobias, anxieties, addictions, and other common psychological problems. The process combines principles of Western and Eastern healing methods, using energy points in the body to release emotional distress.
"An invaluable tool to help the thousands of people suffering from a variety of psychological problems. Even if yours is a complex case, Dr. Callahan's method works."... from the Foreword by Dr. Earl Mindell, author of Prescription Alternatives and Dr. Earl Mindell's Secrets of Natural Health
Purchase "Tapping The Healer Within" Now!
UNITED KINGDOM EDITION
PIATKUS BOOKS
5 Windmill Street
London, W1P 1HF
Tel: 020-7631 0710
www.piatkus.co.uk
ISBN 0-7499-2232-X

JAPANESE EDITION
Shunjusha
2-18-6 Soto-Kanda
Chiyoda-ku
Tokyo, 101-0021

and...
The English Agency (Japan) Ltd.
Sakuragi Bldg. 4F,
6-7-3 Minami Aoyama,
Minato-ku
Tokyo, 107-0062

SPANISH EDITION
teresa.mazario@esferalibros.com
La Esfera de los Libros. Avda. Alfonso XIII, 1. 28002 MADRID, Spain
Tel. +34912960200. Fax. +34912960206.

The Chinese language publisher is:
PSYGARDEN PUBLISHING COMPANY
2F, NO.267, SEC. 2, HSIN-YI ROAD,
TAIPEI 100
TAIWAN
ROC
TFT Training Programs:
Learn TFT To Help Yourself:

Tapping Nature's Healing System - Thought Field Therapy

®

Online Training Program.

NEW: Introduction to TFT
Online Course

Dr. Roger Callahan and Joanne Callahan take you step-by-step through the process of doing TFT... showing you exactly how you can easily and almost effortlessly tap your healer within.

"Thank you and Dr. Callahan so much for helping me overcome the anxiety and the compulsive eating that have plagued me for most of my life. Both are definitely much less. Thank you so much"

More details

This package includes:

Our popular online audio training with presentation and demonstrations
New 200 page manual including step-by-step instructions and:


Underlying theory of TFT

Psychological Reversal – Self-sabotage

What about toxins?

Fears and phobias tapping sequence

Visualization for peak performance

Post traumatic stress relief

Overcome anger and guilt, anxiety and more.

Jet Lag

You'll be able to access the program immediately.

Reg. Price: $397

ON SALE $147.00
---