Our Latest Instant-Access Tapping Audio Class:



Featured e-learning program:
Introduction to TFT Tapping Basics


The perfect place to start.
Featured TFT Tapping Therapy Books:
"Tapping the Healer Within"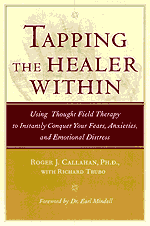 Using Thought Field Therapy® to Instantly Conquer Your Fears, Anxieties, and Emotional Distress.
By Roger J. Callahan, PhD,
with Richard Trubo, Forward by Dr. Earl Mindell.
The first book on "TFT" by its founder Dr. Roger Callahan. Thought Field Therapy (TFT) has already changed the way thousands of people have overcome emotional problems. Now the founder of TFT shows readers how to harness its healing power on their own, to overcome phobias, anxieties, addictions, and other common psychological problems. The process combines principles of Western and Eastern healing methods, using energy points in the body to release emotional distress.
"An invaluable tool to help the thousands of people suffering from a variety of psychological problems. Even if yours is a complex case, Dr. Callahan's method works."... from the Foreword by Dr. Earl Mindell, author of Prescription Alternatives and Dr. Earl Mindell's Secrets of Natural Health
Purchase "Tapping The Healer Within" Now!
---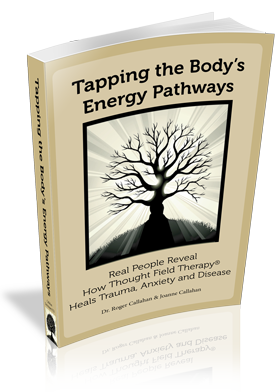 "Tapping the Body's Energy Pathways"
Real People Reveal How Thought Field Therapy® Heals Trauma, Anxiety and Disease.
by Dr. Roger Callahan & Joanne Callahan
To all the Thought Field Therapy practitioners around the world who have helped hurting and despairing people recover their lives, this book is dedicated to you.
-Roger and Joanne Callahan
With the stories in this book, you'll see for yourself how other people—perhaps with the same disorder or limiting behavior that you have—have used TFT to instantly calm the stress, eliminate the fears and phobias, erase what's holding them back from success, and begin the process of healing, both physically and psychologically.
With the purchase of this book, you also receive access to our resource center of tapping videos.

Price: $16.95

TFT Training Programs:
CE Now Available: TFT Algorithm Trainings go online With CE's

Get Certified in TFT

The Official Online
TFT Algorithm Course

Dr. Roger Callahan and Joanne Callahan take you step-by-step through the process of doing TFT... showing you exactly how you can easily and almost effortlessly tap your healer within.

"Thank you and Dr. Callahan so much for helping me overcome the anxiety and the compulsive eating that have plagued me for most of my life. Both are definitely much less. Thank you so much"

More details

This package includes:

Our popular online audio training with presentation and demonstrations
New 200 page manual including step-by-step instructions and:


Underlying theory of TFT

Psychological Reversal – Self-sabotage

What about toxins?

Fears and phobias tapping sequence

Visualization for peak performance

Post traumatic stress relief

Overcome anger and guilt, anxiety and more.

Jet Lag

You'll be able to access the program and special bonuses immediately.

Reg. Price: $349
ON SALE $247.00
---
TFT Training: Learn To Use TFT To Help Others: