Thought Field Therapy® (TFT) Tapping Overcomes Anxiety, Fear and Stress In Minutes... From the Founders Of Tapping!

Our FREE TFT Tapping Therapy Guide is a step-by-step tutorial of the tapping sequences to beat your stress, anxiety or fears... in just minutes.

Once you've discovered emotional freedom with the TFT Tapping Technique, you'll have the freedom to move forward on all areas of your life. To help you learn the tapping technique, we've also included a video tutorial showing you how to tap away your stress, anxiety and fear in minutes.

I have been using TFT Tapping Therapy for only 3 days, and am already seeing results in my ability to handle stressful situations, without allowing it to take me off course. Very easy to follow, takes less than 5 minutes, yet the results are very powerful. I am very grateful for this program! - Louise S.
Spanish Tapping Guide Now Available.
---
"Tapping the Healer Within" -The Original Guide to Tapping.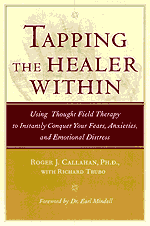 Using Thought Field Therapy® to Instantly Conquer Your Fears, Anxieties, and Emotional Distress.
By Roger J. Callahan, PhD,
with Richard Trubo, Forward by Dr. Earl Mindell.
Thought Field Therapy (TFT) has already changed the way thousands of people have overcome emotional problems. Now the founder of TFT shows readers how to harness its healing power on their own, to overcome phobias, anxieties, addictions, and other common psychological problems. The process combines principles of Western and Eastern healing methods, using energy points in the body to release emotional distress.
"An invaluable tool to help the thousands of people suffering from a variety of psychological problems. Even if yours is a complex case, Dr. Callahan's method works."... from the Foreword by Dr. Earl Mindell, author of Prescription Alternatives and Dr. Earl Mindell's Secrets of Natural Health
Purchase "Tapping The Healer Within" Now!
Click Here for More Tapping Therapy Books and Learning Products.
---
Our Latest Tapping Class Series:



---
Thought Field Therapy® (TFT) Tapping
Provides the Code to Nature's Healing System.
Celebrating Over 35 Years of Success
in Meridian Energy Psychology Therapy.

From The Founders Of Tapping Therapy...
The Original Emotional Freedom Technique.

Joanne Callahan
President
Callahan Techniques®

Thought Field Therapy (TFT) is the sequential tapping procedure that Dr. Roger Callahan discovered, which provides a code to nature's healing system. When TFT is applied to problems it addresses their fundamental causes, balancing the body's energy system, and allows you to eliminate most negative emotions or fears within minutes.

TFT Tapping Therapy is a highly effective, non-invasive, healthy self-help alternative to long-term, or drug-related psychotherapy.

The healing world of Callahan Techniques® and Thought Field Therapy® spawned the beginnings of many therapies, often collectively called Energy Psychology.

Most have a basis in the original form of Thought Field Therapy, and, together have all performed a tremendous service to improve the effectiveness of healing and the field of psychology.

Thought Field Therapy often works when nothing else will... It has been used for weight loss, stop smoking, phobias, trauma relief, love pain, and much, much more.

Thought Field Therapy, or TFT for short, uses a tapping sequence in the form of a healing code, balancing the body's energy system and allowing you to eliminate most negative emotions within minutes, while promoting the body's own healing ability.

Thought Field Therapy is used for:

• Trauma relief
• Elimination of fears, anxiety and stress
• Successful weight loss or smoking cessation
• Ease the weight of depression without medications
• Leading emotional freedom technique - providing you with a path to success

As the founder of tapping, Dr. Callahan has demonstrated his tapping therapy on CNN, Regis & Kelly, LEEZA, Oprah, and other television and radio shows world-wide. By sharing the TFT meridian tapping technique, tapping can have a significant impact on the decrease of human suffering.

Joanne Callahan, President of Callahan Techniques, continues Roger's work around the world.

---

Join Us For Live TFT Certification Training and
Learn To Use TFT To Help Yourself and Others.



"...one of the most effective and most powerful for quick clinical relief and help....and the idea of psychological reversal is one of the major discoveries in psychology." Gary Emery, PhD, co-author, Anxiety Disorders and Phobias: A Cognitive Perspective.

---

"As a physician, I have attended trainings given by chiropractors, physicians, universities and pharmaceutical companies and this is the best training I have ever taken with its potential for human healing". Arthur R. Davis, Jr. MD

---

"What's fascinating about TFT is it's quick, painless and it's success rate is almost unheard of in the field of mental health in any type of treatment over this whole century." Shad Meshad, President, National Veterans Foundation & Founder and Author of the National Vet Center Program.
TFT e-learning program:
Learn the Basics Of TFT

An Introduction to TFT — Tapping Basics Online with Instant Access.
---
Certified Tapping Practitioner Program:

We now offer our TFT Algorithm Course online in our new e-learning center.

Join Joanne and Roger Callahan in this online audio course. Workbooks, TFT-Algo test and certification included.

Learn all of the TFT algorithms and get the official TFT-Algo Certificate today.
Click Here for More Tapping Therapy Books and Learning Products
---
We invite Emotional Freedom Techniques (EFT) Practitioners to discover how transitioning to TFT can benefit your practice.
We welcome Emotional Freedom Techniques (EFT) Tapping Therapy Practitioners to TFT. TFT offers advanced EFT Tapping Algorithms to help overcome specific challenges! We also offer TFT Tapping Therapy Certification to Health Professionals.

Click here for more information on expanding your tapping practice.