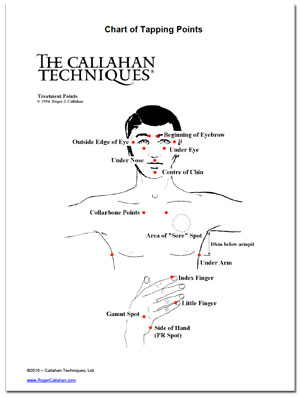 Download the tapping points chart and abbreviations by clicking here.
---
Here's the Latest Newsletter - the "the thought field":
Our newsletter lets you learn more about us and Thought Field Therapy, and what we have to offer you... whether you use TFT for yourself, or you are a TFT practitioner, or you are an organization that is using tapping as a way to extend your outreach.

Thought Field Therapy is growing at an unprecedented rate... and we are adapting to this growth by expanding our trainings around the world.

Thanks for being a part of the family, and we hope TFT is helping to improve your quality of life as well as help you be successful in all you do.
Click Here to download
the thought field newsletter
"right click and choose "save to my computer..."
---
"Overcome Love Pain, Emotional Pain and Other Traumas"

Roger Callahan's Thought Field Therapy® helps heal the emotional wounds caused by love pain and other traumas.

If you've been hurt by a loved one, been rejected, or suffered an emotional trauma, Thought Field Therapy can help you get back to normal, and over the pain your loss is causing you.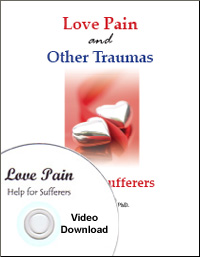 Take the Amoro-Phobia Quiz:
Click here to download the PDF
We also offer an Ebook and video that takes you through the complete TFT technique to curing your Love Pain...
Get The e-Book and Video - This package is delivered to you and includes the common treatment for all traumas, including those involving love pain, grief, anger and guilt. Package includes a downloadable booklet and video.. all in our e-learning center.
Access the Love Pain Online e-learning Training Now!
---
Free Trauma Help

Thought Field Therapy® tapping has been used to overcome all sorts of trauma around the world.

The new book Stop The Nightmares Of Trauma provides the latest and most up-to-date procedures and theory for TFT... We'll show you how to use tapping to overcome trauma.
Free Guide to Conquer Your
Fear Of Flying...


We were honored to be given the opportunity to work with Whoopi Goldberg as part of our participation in the Virgin Atlantic Airways "Flying Without Fear" program... helping her overcome her intense fear of flying with thought field therapy tapping. If you're afraid of flying, or have any other phobia, help is just a click away.
NEW: Learn the Basics Of TFT
An Introduction to TFT — Tapping Basics
Online with Instant Access.
Learn how TFT reduces stress which is a leading contributor to chronic diseases, such as heart disease, stroke, cancer, chronic respiratory diseases and diabetes.

How the stress and the uncertainty are affecting your health (even if you don't know it) and how TFT can quickly reduce and often eliminate your stress.

Learn how anxiety interferes with your immune system making you vulnerable to chronic disease and how TFT can help.

Listen to how TFT can help you reduce and often completely eliminate your job, financial and relationship stress.

Find out how TFT can quickly and almost "magically" eliminate fears, addictions, phobias, anxiety, trauma and even physical pain.

Discover how TFT will work for anyone- even the biggest skeptic!

---
---
Get Our New Release!

"Tapping the Body's Energy Pathways"

Real People Reveal How Thought Field Therapy® Heals Trauma, Anxiety and Disease.

by Dr. Roger Callahan & Joanne Callahan

To all the Thought Field Therapy practitioners around the world who have helped hurting and despairing people recover their lives, this book is dedicated to you.
-Roger and Joanne Callahan

With the stories in this book, you'll see for yourself how other people—perhaps with the same disorder or limiting behavior that you have—have used TFT to instantly calm the stress, eliminate the fears and phobias, erase what's holding them back from success, and begin the process of healing, both physically and psychologically.

With the purchase of this book, you also receive access to our resource center of tapping videos.


Price: $16.95
---
1.
What is Thought Field Therapy® (TFT)?

Tapping Into Nature's Healing System

Over 30 Years in Development - Thought Field Therapy (TFT) is the procedure that provides a code to nature's healing system, when applied to problems, addresses their fundamental causes, balancing the body's energy system and allowing you to eliminate most negative emotions within minutes.

This Code is elicited through TFT's unique assessment procedures.

"When I observe a number of suffering patients who did not respond to our usual treatment modalities, suddenly get better after TFT algorithms are given, I don't need a double-blind controlled study to tell me the value of TFT" ...James McKoy, MD Chief, Pain Clinic, Chief Rheumatology Service Assistant Chief, Neuroscience Department, Kaiser Permanente, Hawaii region

"The power and beauty of TFT VT is truly awesome. Even though I have experienced it time and again I am constantly amazed at the healing that takes place through TFT in areas that other therapies could hardly effect at all, much less with the speed and thoroughness of TFT. I believe that nothing so powerful, effective, predictable, and reproducible has ever taken place in healing and self-development." ....Mary L. Cowley, PhD, TFT VT Thought Field Therapy by Voice Carlsbad, CA

2.
Why should I want to learn TFT?

Brief self-help with rapid, measurable results
High success with most problems or negative emotions
Works with any age from very young children to the elderly
Effective help without the pain or retraumatization or reliving of past problems

3.

Who can use and learn TFT?

Parents • Counselors • Clergy • Educators • Employers • Business executives • Policemen & Firemen • Massage Therapists Healthcare professionals • Social Workers • Traders/Brokers • And anyone in a high stress environment

4.
What do professionals say about TFT?

"One of the most effective and most powerful for quick clinical relief and help - and the idea of psychological reversal is one of the major discoveries in psychology?"
...Gary Emery, Ph.D., co-author, "Anxiety Disorders and Phobias: A Cognitive Perspective.

"I have recommended and used Dr. Callahan's Five Minute Phobia Cure in my Self-Esteem seminars for many years. Now, his new Stop the Nightmares of Trauma provides us with a simple, self-help technique for past traumas. This revolutionary approach brings us one giant step closer to reducing the suffering of trauma victims throughout the world."
...Jack Canfield, Co-Author, "Chicken Soup for the Soul®" Series

"If it had been a horse race, which the investigators as well as the innovators were all at pains to deny, the TFT contingent would have won, hands down. Requiring virtually nothing in the way of personal interaction, TFT can bypass all that tedious therapeutic business of joining, empathy, history taking, reprocessing and the like, and zero in on the problem immediately at hand. With 10-minute treatments not at all unusual?"
...Mary Sykes Wylie, Ph.D., Senior Editor, "The Family Therapy Networker, July/Aug, 1996."

"For 25 years I have treated American war veterans suffering from Post-Traumatic Stress Disorder. I have witnessed gallant efforts to keep a job, be members of a family, overcome homelessness and resist the temptation of suicide... I am very grateful to Dr. Callahan for his discovery of Thought Field Therapy. For too long a time, my patients and I have yearned for something like this. In my opinion, this gentle action technique is easily the best approach to thorough and enduring relief from this crippling psychological disorder."
...Carl Johnson, PhD, Diplomate in Clinical Psychology, American Board of Professional Psychology, Program for Homeless Veterans, Martinsburg, West Virginia

"I have been trained in a traditional medical, psychiatric, psychoanalytic and psychopharmacological model and I can state clearly - If I had only one therapy to use it would be Callahan Techniques® Thought Field Therapy. It's the best therapy in history!"
...Luanne Ruona, MD, Director, Center for Holistic Therapy, Washington, DC and Alexandria, VA

"This (training) was a pinnacle for me. It expanded, reviewed and integrated what I had already learned and provided many new things for me to learn"
...Rita Weinberg, PhD, Professor of Psychology at National-Louis University, Wheeling Campus, Wheeling, Illinois

"TFT is not just the most powerful tool in traumatic stress reduction; IT SAVES LIVES. I have used TFT to intervene with a suicidal client and it worked. Thank you Dr. Callahan for sharing this with the world."
...Bruce Ramsay, CTR, CISM, Program Director, First Nations? Emergency Services Society of B.C.

5.
How Can TFT Benefit Me? What Kind of Problems Can Be Helped?

Anxiety and Stress
Personal fears or your children's fears
Anger and Frustration
Eating or smoking or drinking problems
Loss of loved ones
Social or public speaking fears
Sexual or intimacy problems
Travel anxiety including fear of flying or driving on the freeways
Nail biting
Cravings
Low moods and mood swings
A Study On Thought Field Therapy®
Thanks to the help of colleagues all over the world, we were able to find four approaches that appeared to hold great promise for reaching our goal. We were so impressed with them that we invited the innovators of these approaches to our clinical laboratory for a week to participate in our systematic clinical demonstration study.
The primary purpose of their visit was to treat our clients, while meeting with our Tallahassee clinical practitioner colleagues prior to and following their work here.
The Four approaches we studied were:
Traumatic Incident Reduction,
Visual Kinaesthetic Dissociation,
Eye Movement Desensitisation and Reprocessing (EMD),
and Thought Field Therapy (TFT).
I would like to tell you about one of the four approaches. I do this not because we are suggesting that it is better than any other approach. All four of the approaches we investigated generated impressive results.
TFT stood out from all other approaches of which I am aware because of five reasons:
1. It is extraordinarily powerful, in that clients receive nearly immediate relief from their suffering and the treatment appears to be permanent.

2. It can be taught to nearly anyone so that clients can not only treat themselves, but treat others affected.

3. It appears to do no harm.

4. It does not require the client to talk about their troubles, something that often causes more emotional pain and discourages many for seeking treatment.

5. It is extremely efficient (fast and long-lasting).
Charles R. Figley, PhD Psychosocial Stress Research Program & Clinical Laboratory Florida State University Tallahassee, FL (complete report here)