Over 22 years in Development -- Thought Field Therapy (TFT) provides a code to nature's healing system.
When applied to problems TFT addresses their fundamental causes, providing information in the form of a healing code, balancing the body's energy system and allowing you to eliminate most negative emotions within minutes and promote the body's own healing ability.
We provide common recipes (algorithms) or codes in our books and tapes. Specific or individual Codes are elicited through TFT's unique assessment procedures taught in Steps A, B, and C training programs.
"When I observe a number of suffering patients who did not respond to our usual treatment modalities, suddenly get better after TFT algorithms are given, I don't need a double-blind controlled study to tell me the value of TFT."
...James McKoy, MD
Chief, Pain Clinic, Chief Rheumatology Services
Assistant Chief, Neuroscience Department,
Kaiser Permanente, Hawaii region
"Traditional psychotherapy is like swinging at a pitch with your eyes closed. TFT causal diagnosis is like shooting the ball out of the stadium with a cannon. It's that fast and powerful."
....John D. Gray, PsyD, Idaho Falls, ID
Alternative medicine for energy healing and natural healing introduces Callahan Techniques®. Receive the best alternative medicine and energy healing therapy through Callahan Techniques training.
Callahan Techniques® Thought Field Therapy is the power therapy of the 21'st century. It is a brief, effective psychotherapy for the rapid and natural healing of negative emotions and psychological problems. In the alternative medicine field, Thought Field Therapy uses nature's therapeutic system to balance the bodies energy system promoting natural healing and improved mental health. Callahan Techniques® Thought Field Therapy is a natural, drug-free approach with rapid results that can be documented with Heart Rate Variability measurements. Callahan Techniques® training is offered to professionals in the energy healing and alternative medicine as well as traditional healthcare fields.
"Join The TFT Family - Free!"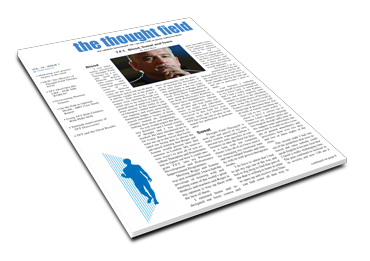 Register now and we'll notify you of our latest news, our upcoming events... and we'll send you a FREE copy of our current newsletter - "The Thought Field".
We'll keep you up to date on current Thought Field Therapy® techniques, research, and activities.
To get a free copy of our latest newsletter - please sign up below, and we'll send it to you right away.

Your information is safe with us - Privacy Policy