Our New Tapping Audio-Class:
Tapping for a Healthy, Happy Family
—From the Very Beginning
Instant Access Audio-Class
Joanne Callahan,
Developer,Thought Field Therapy (TFT for short).

Recently there has been so much in the news about the joy of birth, the new royal baby, the new babies of several celebrities and all of the joys of parenthood. 

Yet, as we watch these happy new parents, there are more than 7.3 million others struggling with infertility and yearning for the joy of parenthood.

As I watched the news and the many beautiful pictures of the new smiling families, I remembered some of the young children that we call our "TFT Babies" and just wanted to share these with all of you.

These parents desperately wanted a baby but it was not happening or they were being told it was not possible.  Things like endometriosis, poor egg quality, fear of pregnancy, or, stress were preventing it.  And, the multitude of fertility processes hadn't helped them create the child they longed for.

While there are many options for those facing infertility, most are costly, invasive and at the very least, stressful on both the partners. 

In fact there is some new research on the relationship of stress to one's ability to conceive, and maintain a healthy pregnancy.
There has long been the chicken or egg discussion, whether stress is a cause of infertility or the result of infertility. Current research clearly shows that the stress levels of women with infertility are equivalent to women with cancer, AIDS or heart disease.
There is no question that infertility causes enormous stress. The breaking news published online in the journal Fertility and Sterility and summarized last week in the Science section of the New York Times, (Old Maxim of Fertility and Stress Is Reversed) is that women who stopped using contraceptives took longer to become pregnant if they had higher saliva levels of the enzyme alpha-amylase -- a biological indicator of stress.
Specifically, women with the highest concentrations of alpha-amylase were 12 percent less likely to become pregnant each month than those with the lowest levels.
The researchers say theirs is the first study to link a biomarker for stress with delayed conception in normal, healthy women, and they suggest that identifying ways to reduce or manage stress may be a low-tech solution for some couples diagnosed with infertility.
Remember, TFT is a power tool for stress relief.
We know that infertility causes stress, and now have the scientific evidence that stress delays time of conception in healthy women. It appears to be a vicious circle.  The researchers state that stress is the one consistent factor that shows an effect on how long it takes to get pregnant, of all the lifestyle factors studied to date. Surprisingly, even low levels of stress can have an impact on conception.
Since stress plays a key role, TFT would be expected to help improve one's ability to conceive.  It is one way to easily and non-invasively lower stress and remove the blocks to becoming pregnant. We share one amazing story about correcting a literal reversal in the polarity of the mother's womb – with 4 years of followup.
There are many other things TFT has done over the years to facilitate pregnancy, support health during the pregnancy of both the mother and fetus, and raise a healthy, happy child, more able to reach their full potential.  I will share these in the Audio-Class and what tapping protocols they used to overcome these challenges.
Over the last three decades, Roger worked with many couples in his practice, helping them to overcome the fears and blocks to having a child.  And, my first experience was early on in my TFT career, when TFT was still the Callahan Techniques®, I was speaking at a women's conference to a large audience.  After my presentation a woman came up to me and asked if it could help with getting pregnant.  I said we have had good success with that in the past. 
I then just checked her for blocks, psychological reversal levels, to getting pregnant.  She was blocked; we corrected it (all in about 5 minutes) and went our separate ways.  About 11-12 months later, I received a thank you note from her, saying she had given birth to a healthy new baby.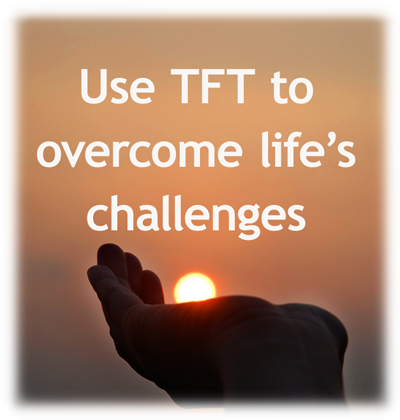 In this class, we will also share the ways numerous practitioners, including midwives, have and are using TFT to quickly correct breach position prior to delivery, and safely resolving several other pregnancy and delivery challenges.
Infertility statistics
One in six couples is infertile. In 40 per cent of cases the problem rests with the male, in 40 per cent with the female, ten per cent with both partners, and in a further ten per cent of cases, the cause is unknown.
Fertility problems strike one in three women over 35.
One in 25 males has a low sperm count and one in 35 is sterile.
Some causes of infertility that respond to TFT:
Endometriosis 
Fear
Stress
Poor egg or sperm quality
Past trauma
Psychological reversal or polarity blocks
Studies have shown that stress leads to difficulty conceiving and infertility leads to stress, both of which lead to a reduced quality of life and increased family tensions. Learn how to use tapping to relieve the stress and heartbreak of infertility.
Also, learn how you can use TFT to safely and effectively eliminate the fears and traumas in your child's life and remove the blocks that prevent them from reaching their full potential.  Read and hear about the successes of some TFT mothers with their TFT babies – and how they are excelling in their young lives.
Learn how you can achieve:
More energy
Better moods
Stronger immune system
Improved health for yourself and your child
More control over your and your family's emotions
In our new Audio-Class – The Joy of a New Baby, or, The Heartbreak of Infertility:  Tapping for a Healthy, Happy Family – from the Very Beginning,  we will show you how to successfully use TFT and tapping to remove the blocks to your family reaching their full potential, eliminate their fears and traumas, relieve stress and improve your quality of life.
We will go step-by-step through how you can tap away the emotional pain of infertility, and clear any blocks to conceiving, removing the blue moods, stress and worry that reduce one's ability to become parents.
We will also address the problem of toxins and how they can interfere with good health and happy moods. They can cause those temper tantrums, fears, jumpy legs or restless legs, anxiety or racing heart rate and more. You'll learn about some simple tools to help neutralize the effects of these toxins.
Research has shown, and new studies are coming out all the time, that support the need for stress relief. It is vital to good health and an improved quality of life.
Why not try a safe, non-invasive method to solve your fertility problems, FIRST?
You can always go to more risky options if you need to.  And, remember if there is a block to healing – it will prevent other methods from helping as well.  You need to identify and correct those blocks.
Read the comments below from a few of our TFT mothers:
"As a result of working through my fears with TFT, for once in my life I actually became excited about the possibility and potential of having a child and the richness it would bring to my life. This was a concept that I was not even remotely in touch with previously.  I was so psychologically reversed that it caused me to see it in such a negative way.  Once this was cleared, I was not only ready but I was excited about bringing a baby into the world.

My attitude did a complete turnaround. My husband and I decided to consciously conceive our baby and nine months later we were blessed with a beautiful daughter whom we named Desiree which comes from the word Desire because we wanted her so much.

Desiree is now 6 and it was truly the best thing that has ever happened and without TFT I would have never had the openness to have such an experience. 

She is my TFT baby girl." 



---
"I can't remember how much I've told you about her but she loves classical music, she happily sits through a 3 hour ballet and will, herself, have 12+ costume changes a day.

She has a reading age of 6 1/2 and when she was 3 years and 1 month she had two I.Q. tests, she reached the ceiling of both tests with an I.Q. of 170 on one particular test. She loves languages and accents and at 3 she had the vocabulary of an 8 year old. She is being home educated as our local schools have said they would not be able to cater for her as her hearing is so acute its almost painful and she could not tolerate school bells or children squealing.

She is obsessed with foreign accents and loves to talk 'American' ;) she also uses 'magic tapping' and it's as natural a part of her life as brushing teeth or having cuddles. She is very funny and very serious and loves to be a knight in shining armor as much as she loves being a princess. I hope she has an opportunity to meet you again one day."
What if all prospective families had these tools? 
What kind of difference might we make in the lives of their young families?
Get Started Now!


Yes! Count me in Joanne!
Please give me instant access to your audio-class on The Joy of a New Baby, or, The Heartbreak of Infertility:  Tapping for a Healthy, Happy Family – from the Very Beginning.

ONLY $44