"Stop The Nightmares Of Trauma"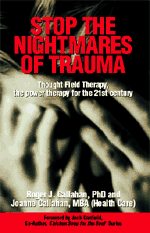 This NEW completely updated and revised book on TFT and Trauma provides the latest and most up-to-date procedures and theory for Thought Field Therapy.
The book is delivered as a PDF file.
Roger J. Callahan, PhD, founder and developer of Thought Field Therapy®, includes information on Heart Rate Variability (HRV), the important role of toxins, the healing system and much more. In it, he gives the reader step-by-step instructions on how to Stop the Nightmares of Trauma.
You'll learn natural and drug-free techniques for coping with the trauma and emotional upset from various problems including natural disasters, death in the family, acts of violence, crimes, war and terrorism attacks, and crimes against the individual like muggings, burglaries, rapes, workplace violence and anger.
"The book provides trauma victims a way to help themselves, a tremendous victory for the human spirit," said Joanne Callahan, president of Callahan Techniques, Ltd. "With the growing trend of violence at both schools and the workplace, the self help procedures given in chapters two & three help relieve the suffering of victims and their families without the need for painful reliving of the event."
The process of Thought Field Therapy (TFT), combines the principles of Western and Eastern healing methods, using specific points on the body to eliminate emotional distress, and has been in use for 30 years. Dr. Callahan has demonstrated his techniques nationwide on radio and television for "Good Morning America," CNN and Evening Magazine, Regis Philbin, Tom Snyder, and "LEEZA", and a full hour with Phil Donahue.
The authors of "Stop the Nightmares of Trauma" are Joanne Callahan, MBA and Roger J. Callahan, PhD.
To get a free sample - chapter 3 - please sign up below,
and we'll send it to you right away.

Only $14.95
PDF File: 320 pages
Publisher: Professional Press
Product Dimensions: 8.3 x 5.3 x 0.8 inches