A Special Thought Field Therapy Class.
Are memories agonizing you and
controlling the decision you make?
Unable to enjoy anything? Not sleeping?
Not trusting and not fitting in with family and friends?

Discover how to apply TFT to
make emotional pain from the past become
controllable memories, and transform fears of
into hopeful visions... in just minutes.
Dr. Robert Bray

Dr. Robert (Bob) Bray has a successful psychotherapy practice in San Diego and has written a book titled: Heal Traumatic Stress NOW-Complete Recovery with Thought Field Therapy, No Open Wounds.

Bob is also an adjunct faculty member at San Diego State University, School of Social Work, and an avid volunteer with many community service organizations, both locally and nationally. Currently he is a volunteer with The American Red Cross, San Diego Chapter – Disaster Mental Health Specialist Team CA-3, and has been deployed to disaster sites such as Hurricane Katrina to assist relief efforts and provide counseling for those in need, in times of crisis.

We're pleased to offer an instantly accessable, online audio-class to help those wanting to overcome past trauma or losses in their lives... with special guest Dr. Robert Bray.

Learn how to use TFT to instantly relieve negative emotions as well as the stress and anxiety that negative events in your past can cause...

It's perfect for anyone suffering from past traumatic events in their life, or in the life of someone they love. You'll learn to end intrusive images, painful memories, disturbed sleep, and isolation arising from past events in your life.

If you or a loved one is stuck and having trouble moving on after a traumatic stress event in your past - this is for you!

There are also demonstrations of TFT, so you'll witness exactly how it can be applied - and how quickly it can overcome even the most difficult challenges!

Dr. Bray explains how trauma can affect out lives:
Your reactions to the past events you have experienced — events that hurt, damaged, or destroyed parts of you — represent the primary source of the pain and fear that currently stops you from living life to it fullest.

These events may have traumatized only your physical body, but for many people they often damaged the emotional, mental and spiritual components of their being as well.

Very often after traumatic experiences even small reminders of these events will set off overwhelming physical and emotional reactions within you. These reminders are called triggers, and they come in many forms. Triggers may be memories, similar situations, smells, images, sounds, or anything that takes you into the past and causes negative sensations and emotions to arise.

More than likely, you already have a good idea of the past events — the traumatic stressors — driving your traumatic stress responses. Often with time and more general life experiences these feelings and sensation become less noticeable even though they may remain powerful influences in your life. However, just coping by finding a way to put distance between yourself and the trauma of your past can actually make it more difficult to overcome them.

You do not have to be held hostage or pursued by these feelings any more. You can use Thought Field Therapy and the NOW recovery processes to release their grip on your being and on your life.
Will You Be One Of Our Miracles?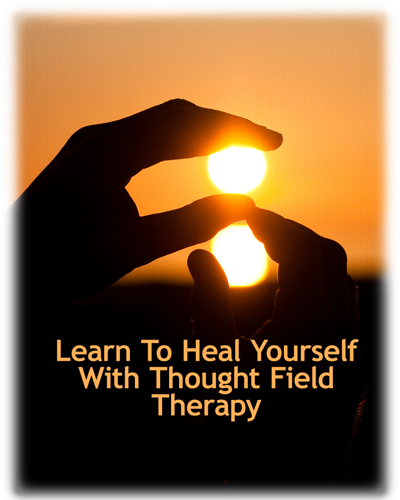 Yes! Count me in!
Please give me access to the online audio-class and downloads, so I can discover how to apply the power of Thought Field Therapy (TFT) to overcome ANY past trauma, fear, anxiety, stress, or addiction I am suffering from.
I understand that these are the same techniques you've utilized (almost effortlessly) and demonstrated on radio and television for CNN (3 Times!), "Good Morning America," Evening Magazine, Regis and Kathy Lee, Jenny Jones, Tom Snyder, "LEEZA", Phil Donahue and The View with Barbara Walters and Whoopi Goldberg as well as many others.
During this telephone class you'll learn
how to use TFT to end fear and pain, and:
Think Clearly

Process your feelings safely
Evaluate & improve relationships
Convert pains and upsets from the past into controllable memories
Transform fears into hopeful visions for your future
Discover how TFT will work for anyone - even the biggest skeptic!
…And much more!
Join Us For This Special Audio-Class

Your Audio-Class and
TFT Trauma Workbook are $55

Purchase Today
for Only $35