Join Us At
The All-New TFT Tapping Workshop
All profits will go towards

the UK Foundation


trauma relief missions.
In response to the large number of requests from people around the world who ask us how they can put the full power of Thought Field Therapy® into effect in their daily lives, we've decided to create a high-intensity 1-day workshop to share the proven tapping sequences of Thought Field Therapy.
Many I talk to—especially soldiers returning from tours of duty—are using Thought Field Therapy® to help relieve post-traumatic stress disorder and other anxiety-related disorders. The results I hear are heartwarming.
Others would like to learn how TFT is used to overcome stress, compulsions, addictions, fears, as well as how TFT can be incorporated into daily living.
As I've heard from so many lately—it got me thinking. How much MORE could the tapping sequences help "everyday" folks who are facing chronic pain, common disorders, phobias and other stress-induced conditions here at home?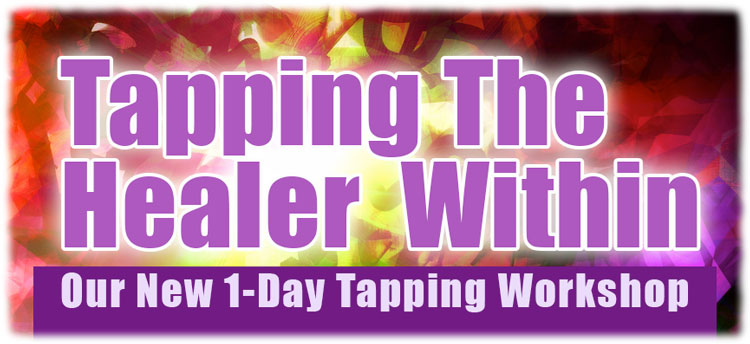 In this new 1-day workshop, you can find out.
We'll work personally with you and others who want to master the tapping algorithms (sequences) to help virtually any condition.
"Tapping the Healer Within" is the name of our new live training event -- and you're invited to learn tapping to help your body overcome virtually any challenge. This event is designed to allow all attendees to receive personal guidance.
The workshop you'll learn:
30+ years of powerful TFT algorithms created to address a wide range of challenges.


35+ of our proven powerful tapping sequences for improving your quality of life.


How to combine sequences for optimum results in your own life


Multiple ways to eliminate self-sabotage and blocks to healing and success–where you'll learn how to correct all of your blocks to well-being and quickly erase negative neuropathways


How TFT reduces daily stress—which is a leading contributor to chronic diseases such as heart disease, stroke, cancer, chronic respiratory disease and diabetes.


How anxiety interferes with your immune system (making you vulnerable to chronic disease) and how TFT can provide the fastest relief possible—even from extreme anxiety and panic disorders.


How TFT can help you reduce (and often completely eliminate) your health-related stress—allowing calm, tranquility and vibrant good health back into your life.


How TFT can quickly and almost "magically" eliminate chronic conditions, the after effects of trauma, and even physical pain.
In this special workshop we'll even be sharing some simple ways for the identification of toxins.
This single day can help you take control and conquer your health challenges—and negative emotions such as fear, depression, obsessions and compulsions, anger, grief, addictive urges, self-sabotage, and irrational guilt—putting you on the path to robust health, peak performance, effective weight control, improved self-esteem, and so much more!
Tapping The Healer Within:
Create a Better Lifestyle Through TFT
Imagine having the tools to overcome any concern that interferes with your enjoyment of life—stress, anxiety, fear, compulsions, obsessions or addictions—wouldn't success and peace of mind come naturally?
In this all-new workshop, we'll equip you with the simple TFT Tapping tools to overcome anything that negatively impacts your sense of well-being.
We'll show you:
... How TFT can help you reduce (and often completely eliminate) your financial, relationship and job-related stress—allowing abundance, confidence and tranquility into your life.

... How TFT can quickly and almost "magically" eliminate fears, phobias, anxiety, trauma and even physical pain without drugs.

... We'll help you take control and conquer your fears, jealousy, depression, obsessions and compulsions, anger, grief, addictive urges, and irrational guilt—and more!

...Eliminate love-pain and grief—amouraphobia—preventing you from finding or attracting that special relationship.

Together we'll help you build your own unique tapping sequence, and even show you how to change it from day to day.
This workshop includes:

Concrete real world examples of the concepts – demonstrated live in class


Step-by-step practice and application of the TFT techniques


All the Algorithms (proven patterns) used to end fears, anxieties, and emotional distress with class volunteers.


Recognizing and overcoming difficult and complex problems in yourself and others.


You'll leave equipped with the tools heal the past, be comfortable in the present moment with yourself and others, and move forward on your journey towards health, love, and joy.
You'll leave this powerful experience with:
A new confidence you can take care of yourself and your loved ones


Additional support audio and video resources for continued guidance, review, and development


Discounts for future live workshops and trainings—and our new online Algorithm certification course


This gift of healing for yourself and your loved ones.
Begin your journey to better health
and well-being! And at the same time
help create PEACE with Trauma Relief
and the UK TFT Foundation
Only £149
Join us for our this live all-day event, meet Joanne Callahan,
co-developer of Thought Field Therapy and learn from the
source of this "power therapy".
Friday May 3, 2013–Birmingham, UK
100% of profit will go towards the UK TFT Foundation's
trauma relief missions.